Dr. Howard Taylor - Executive Director, Global Partnership to End Violence Against Children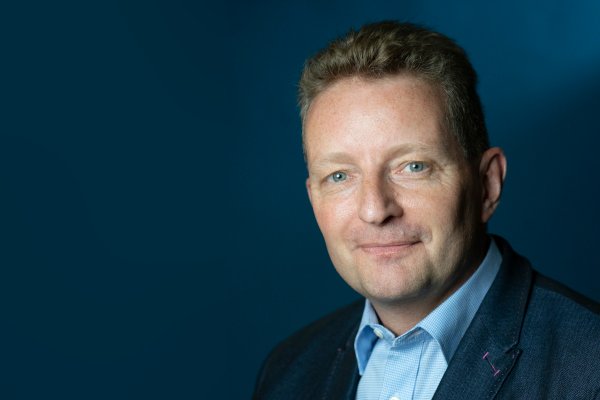 Dr. Howard Taylor is Executive Director of the Global Partnership to End Violence Against Children, an innovative public-private partnership launched by the UN Secretary-General in 2016. The Partnership is the only global entity focused solely on Sustainable Development Goal 16.2: ending all forms of violence against children by 2030.
The Partnership works to raise awareness, catalyse leadership commitments, mobilise new resources, promote evidence-based solutions, and support those working to end all forms of violence in all settings of children's lives.
This unique coalition brings together 700 diverse organisations including governments, UN agencies, research institutions, international NGOs, foundations, local CSOs, private sector groups and faith networks.
One of the most remarkable aspects of the End Violence Partnership is its focus on promoting and facilitating data collection in order to have more and better evidence regarding violence against children. Which efforts would you highlight in this regard?
Access to consistent, accurate and relevant data and evidence is critical to drive and scale up investment in the solutions we know work and to monitoring progress to end violence against children. That is why the End Violence Partnership prioritises the collection and dissemination of the best-available knowledge to our 700 partners and all those working to end violence against children. And it provides a foundation for our strategic pillar of collective evidence-based advocacy.
Our Knowledge Platform houses the latest evidence, learning and data for and by policy and programme professionals and alongside partner organisations helped develop and promote the INSPIRE seven strategies as well as six expert-driven policy proposals to end violence across settings – at home, online, in schools, communities and humanitarian settings.
Other important efforts to note include Violence Against Children and Youth Surveys, the Global status report on preventing violence against children, an Investment Case developed jointly with the World Bank to assess the cost of violence in and through schools, and our Disrupting Harm research project  that aims to better understand how digital technology facilitates the sexual exploitation and abuse of children.
Most recently, the Partnership launched an innovative and interactive resource, the Country Dashboard containing and tracking key national data, milestones and progress of Pathfinding governments. 
In cooperation with other entities and led by the World Health Organization, in 2016 you launched INSPIRE, a series of 7 evidence-supported strategies that countries can implement to prevent and reduce violence against children. How would you assess its impact to this day? 
The INSPIRE Package is an incredibly important benchmark for the prevention of and response to violence against children. It is the result of global experts coming together for the first time to collect and organise evidence and solutions around what works to end violence. A recent report on the INSPIRE Uptake between 2016 and 2021 shows that since the release of the package in 2016, 67 countries have shown engagement with the framework and adoption of the INSPIRE strategies. This commitment varies from high-level government commitments to application and adoption of INSPIRE by Civil Society Organisations.
The End Violence Pathfinding Countries – countries that have made formal commitments to end all forms of violence against children – use the INSPIRE framework to understand the drivers of violence, structure their work to prevent and respond to violence, and launch a costed national action plan. 24 of the 37 Pathfinding countries have shown solid commitment to the INSPIRE framework by including at least four of its strategies in their plans.
Despite the rapid and widespread uptake of INSPIRE, learnings from past years indicate that even more needs to be done to increase awareness, prioritise national ownership, build national coordination capacity, and further develop evidence and resources to support the adaptation and scale-up of INSPIRE.
Which one of the 7 strategies of INSPIRE would you say has proven the most challenging for countries to implement? What can be done to overcome this?
Every country has their own unique situation and trajectory. INSPIRE strategies are most effectively implemented when the following conditions are in place:
Political stability;
Available data and understanding of the evidence-based solutions;
National prioritisation and ownership;
Sustainable funding for policy and programmes; and
Strong coordination between partners and across government ministries.
Saying that, changing harmful societal norms, which can target gender, ability level, age and other indicators is a long-term and complex challenge.
One of the goals of INSPIRE is to protect children in conflict with the law. How is the End Violence Partnership working towards the achievement of this goal?
Article 37 of the UN Convention on the Rights of the Child (CRC) requires that children are not subjected to "torture or other cruel, inhuman or degrading treatment or punishment". The CRC also requires that children in conflict with the law are treated "in a manner consistent with the promotion of [their] sense of dignity and worth".
The End Violence Partnership advocates for, monitors, and provides technical support to make sure that laws and policies are adopted and implemented so that children's human rights to be protected from all forms of violence are upheld – including in the criminal justice system. We work with and through partners large and small - from governments by working with their justice, health, and education systems, to international organisations, civil society, and children themselves. Our ultimate goal is that every girl and every boy – regardless of their background – grows up in a safe, secure and nurturing environment.
Corporal punishment to children in justice systems, either by sentencing or as a disciplinary measure in penal institutions, has been prohibited by many countries, but it nevertheless remains a very serious form of violence in countries that have not prohibited it. From your data, what would you say are still the main obstacles to its prohibition in these countries?
Currently, more states have prohibited corporal punishment as a sentence of crime than in any other setting such as schools or homes. Out of 199 states – 169 have now abolished judicial corporal punishment compared with 144 prohibiting physical punishment as a disciplinary measure in penal institutions. However, this shows us that there are still 30 States where children can be given corporal punishment as a sentence for a crime, which could include whipping, flogging or caning.
This is unacceptable and more work needs to be done. Many legislations related to children in penal systems worldwide still need to be amended to explicitly prohibit corporal punishment of children. Depending on national contexts, the main obstacles to achieving law reform are:
Lack of political will or support (for example when states do not prioritise children's rights to be protected from all forms of violence);
Cultural and religious traditions;
States with multiple legal systems (such as secular law, religious law, customary law).
And ultimately, even once the prohibiting laws are enacted, it is important that countries take all measures to ensure that they are implemented.
The culmination of the Together to #ENDviolence campaign and Solutions Summit Series will take place at a high-level Leaders' Event on June 14th. What are the End of Violence Partnership's expectations or aims in relation to this event?
The Together to #ENDviolence Leaders' Event brings together diverse and powerful voices from across countries, sectors and expertise – all united by the shared vision of a world without violence against children.
The event aims to showcase solutions, provide a platform for political and financial commitments and inspire action. The event will feature over 30 influential speakers – including heads of government, leaders of UN agencies, royalty, CEOs, celebrities, activists, children and survivors of childhood sexual violence.
This is a unique opportunity to take stock of where we are and what we need to do – across countries, industries and sectors, to keep children safe in their communities, homes, schools and online.
You can find out more and register for the Leaders Event here.