Manual for Practitioners
This manual has been designed as a component of the Advancing the Defence Rights of Children training programme, to serve two purposes:
To be used as a source of information and knowledge for training providers interested in delivering the training programme to local lawyers; and
To be used as a helpful resource for practicing lawyers, as a guide that will help them understand the law as well as the practical aspects of assisting children in conflict with the law.
This manual is broadly divided into two sections. The first section (Chapters 1 and 2) focuses on the law, and it explains the core principles and standards on children's rights found in the Children Directive, as well as in various other international and regional instruments. It also explains how these principles and standards apply at various stages of juvenile justice proceedings.
The second section provides multi-disciplinary and skills-based guidance on how to assist child suspects and accused persons. It includes, inter alia, a basic introduction to child psychology and development and guidance on how to communicate with children.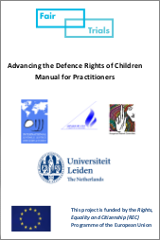 Manual for Trainers
This 'Manual for Trainers' provides a comprehensive overview on the execution of the project's training programme and how to adapt it for local jurisdictions. It should be used hand in hand with the 'Manual for Practitioners', which is the document provided to those professionals undergoing the training. The 'Manual for Trainers' sets out the organisation, logistics and structure of the training, with overviews of each module and advice on how to deliver the topics using interactive techniques such as roleplay and group exercises. Some of these techniques involve using scenarios, which are provided in annexes separately from the manual.